It has been a great week! :) Tuesday, we had a Math Parent Night. We had an average turn out, but it was fun! A few of the teachers dressed up, and some students dressed up, as well.
Friendship Bracelet Update:
When I introduced the bracelet to my class, I decided to call it a "friendship band." It has been amazing. I can see and hear a noticeable difference with the way my students have been interacting. They are saying nice things and really giving words of encouragement. It's great! I don't remember if I put this in the
initial post
about it, but I've decided to graph our progress (the number of students who wear it), so I'll be able to hit on graphing/charting skills. Woot!
Matter Unit:
I am so proud of myself! I made it through the matter unit I planned. My class tested yesterday, and I graded the tests last night. THEY WERE GREAT!! Wooooot! I'm proud of them, too! :)
Importance of Fun:
I feel that when you have good classroom management and your students know your expectations, it's really easy to have fun with your class. Yesterday was one of those days for me. Thursday night, I went around and put "Go Tigers! Beat Duke" posters on several teachers' doors. (Clemson is playing Duke tonight.) One of those teachers decided to put the Duke mascot in my room yesterday morning. Some of the kids and I were going back and forth about who would win. It was fun and funny. :)
I also decided to put my tiger tail and ears on my TV and told the kids that the Tiger was watching them and would pounce on any inappropriate behaviors. They ate that up! :)
I hope everyone has a great weekend! We're getting close to Thanksgiving!! :)
November Currently!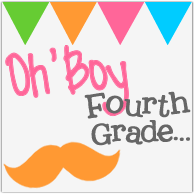 Giveaway Alert! :)
Go over to Amanda's Blog (
Teaching Maddeness
) and enter her giveaway for a CUTE "Maggie Tote". I would actually prefer you don't, but if you're interested you definitely should! :)